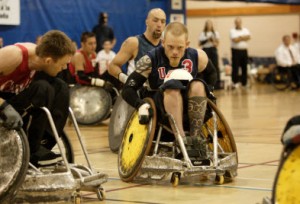 Featuring fierce rivalry, stopwatch suspense, and larger-than-life personalities, MURDERBALL, Winner of the Documentary Audience Award and a Special Jury Prize for Editing at the 2005 Sundance Film Festival, is a film about tough, highly competitive rugby players. Quadriplegic rugby players. Whether by car wreck, fist fight, gun shot, or rogue bacteria, these men were forced to live life sitting down. In their own version of the full-contact sport, they smash the hell out of each other in custom-made gladiator-like wheelchairs. And no, they don't wear helmets.
From the gyms of middle America to the Olympic arena in Athens, Greece, MURDERBALL tells the story of a group of world-class athletes unlike any ever shown on screen. In addition to smashing chairs, it will smash every stereotype you ever had about the disabled. It is a film about family, revenge, honor, sex (yes, they can) and the triumph of love over loss. But most of all, it is a film about standing up, even after your spirit – and your spine – has been crushed.
To view a trailer, visit: http://www.youtube.com/watch?v=_kaT5dDiISw
Dana Adam Shapiro, Co-Director and Producer
Dana Adam Shapiro's first novel, THE EVERY BOY, will be published by Houghton Mifflin in July. With Plan B Entertainment and Paramount Pictures, he is set to write and direct a flim based on the book. Dana is a former senior editor at SPIN and a contributor to the NEW YORK TIMES MAGAZINE and other publications. MURDERBALL is his first film.
Henry-Alex Rubin, Co-Director and Cinematographer
As a documentary filmmaker, Rubin made the award-winning
WHO IS HENRY JAGLOM? (PBS, First Run Features, w/ Candice Bergen, Dennis Hopper) and FREEESTYLE (w/ Mos Def, The Roots and JD), which was recently picked up by Palm Pictures after winning Best Documentary at the Woodstock and Urbanworld Film Festival. Additionally, he directed the second-unit on several films including COP LAND and GIRL INTERRUPTED. He is currently directing a mockumentary starring Winona Ryder.