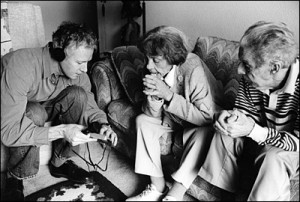 This year, about 2.5 million Americans will die. About 900,000 of them, or three in ten, will get hospice care in their last weeks or months. Hospice is specialized care for terminally ill patients with less than six months to live. Its workers and volunteers often develop close personal relationships with their patients, exploring emotional, psychological and spiritual questions as well as medical ones. In this story, John Biewen followed one hospice patient through the last two months of her life.
John Biewen directs the audio program at the Center for Documentary Studies, where he teaches and produces documentary work for NPR, Public Radio International, and other audiences. His reporting and documentary work has taken him across the United States and to Europe, Japan, and India. Biewen teaches undergraduates and continuing education students in the Certificate in Documentary Studies programs at CDS.
From John's notebook, "I saw Kitty Shenay about once a week for the last two months of her life. The experience was poignant. Towards the end it was disturbing, even shocking. One day she was frail but fully present and sharp-witted, days later she'd become a near corpse, unconscious and struggling for her last breaths. And, indeed, a few hours after that I looked upon her actual corpse…
It was emotional. I wiped away tears several times in Kitty's presence, and many more times while listening back to her tender moments with her daughters and with her nurse, Roland Siverson.
But depressing? No. In fact, I found the experience curiously uplifting…"
To hear the entire piece, or read John's reflections on producing this piece, visit: http://americanradioworks.publicradio.org/features/hospice/notebook.html
To hear John's talk about producing this project,